The Story:
Are you back, Angelique?"
He waits in his library, alone, drawing back curtains on memories of love so many years lost. Reports of dead men, bloodless, all eerily similar, tell Vincent the tale. Stalking in shadows, she seeks him.Will she have him still?
Told first in Helen A Rosburg's poem "Angelique," the story of Angelique and Vincent's undying love now comes to resplendent life in this novelette illustrated by Cherif Fortin and Lynn Sanders and offered in animated-book format. With its beautiful prose and breathtaking images, this instant classic vampire story will haunt and delight readers for eternity.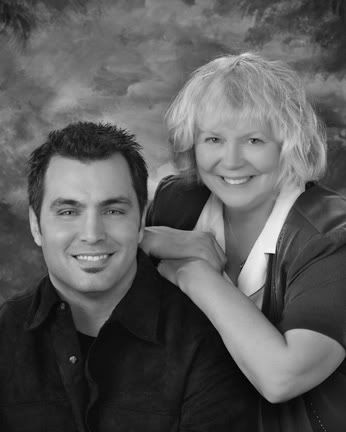 Bios:
Cherif Fortin is a freelance photographer, illustrator, and writer living in Chicago, Illinois. At one time he has worked as a professional stuntman, as a full-time firefighter, and as one of the country's leading romance cover models. Cherif's artwork has been featured on the covers of hundreds of books in dozens of countries, and on calendars and collectibles. He runs the successful Fortin & Sanders Studio along with partner, Lynn Sanders, producing commercial art and photography for leading clients internationally. He lives with his wife, Dawn, and their three children: Kira, Kai, and Lara.
Lynn Sanders is an artist, photographer, and writer of romance fiction and children's books. She is co-owner of Fortin & Sanders Studio, which produces cover art for some of the top publishers in the world. Her paintings have been exhibited at Epcot Center and are owned by private collectors such as Hugh Hefner and Fabio. She has three adult children, three grandchildren, and one great-grandchild. She lives in northern Illinois with Ce Ce, her faithful Cirneco dell Etna.
If you do not already know, Angelique is a book that has animated pictures and music. It has been created as an Ipad App and I guarantee you do not want to miss out on the super cool new concept in books. You can have the author read the book to you or you can read it yourself and when you con to a picture it moves and has sound effects and.....wow it is soooo cool!
Our Interview:
Thank you both for participating in this interview. If I may ask, I would love it if you each would answer the questions. Thank you so much.
Lynn: Would love to.
Cherif: No problem!
How old were you when you realized that you wanted to be an artist? Do you remember the defining moment?
Lynn: I always saw pencil and charcoal drawings of my mother done by my father around the house when I was a kid. My father set me up an art easel when I was about nine. He made it out of an old table top. It was so hard I could hardly push a thumb tack into it to hold up my paper.
Cherif: There wasn't one defining moment for me. I've always been into art, ever since I was old enough to hold a crayon. Early on I was especially fond of drawing cartoons like the ones in the Asterix and Tin Tin books my uncles had lying around. As I grew older, my influences broadened, and I fell in love with the works of the great illustrators. It wasn't until my early twenties that I realized I could possibly make a living through art.
Have you had professional artistic training?
Lynn: I am mostly self taught. I received a scholarship to the Chicago Art Institute which I did not use. In the 60s I was a proud drop out of the Norman Rockwell Correspondence School of Fine art. One art class at the local college. On the job training I worked for a school photographer in the 60s and tinted thousands of gold tone photographs. I understand a face very well. I've painted Portraits, billboards, wall murals, photography backgrounds. (so, by the way, did Picasso) and my shoes. In my youth I've worked with some of the greatest photographers and photographic artists of the 20th century. They mostly are all dead now. I hold master degrees in photography and photographic art issued by the Professional Photographers of America association. I've taught an art class at Brooks institute of photography in California and I learn something new every day. You want to get good at something you have to do it, not just talk about it.
Cherif: Like Lynn, I am mostly self-taught. I've learned a lot from my partnership with Lynn, as she has been a tremendous mentor for me, particularly in the realms of photography and traditional oil painting. I'm also completely addicted to tutorials: I've been collecting and studying them since the 90's, when I started transitioning to digital art and photography. Ultimately, years of on-the-job training have probably taught me the most.
In order to create the movement in the animated pictures do you need to paint several picture depicting the movement?
Cherif: Yes. Depending on what is going to happen with the final animation, we might need to paint several versions of the painting (or parts of the painting). These assets are then combined by the programmers to create the illusion of motion. Animations like the ones in Angelique can mean a considerable amount of extra work, but I think the added value of sound and motion is worth it.
Is painting the pictures for a book a long time consuming process? Would you please describe the process you go through?
Cherif: I guess it depends on what you would consider a long time. For Angelique, we started by making a series of concept sketches, followed by a mock-up of the finished book. Once these were approved by the publisher and author, we moved on to a photoshoot where we captured all our reference photos, then started the processes of painting the finished images. Once the finals are done, there is a review process and revisions if needed. All told it took us a little over three months.
Is the book already written when you begin painting the illustrations?
Lynn: In the case of Angelique yes. Passion's Blood evolved over a 4 year period. The images came first on this one. Leanna is 16 in one painting( The one with the leaves falling around her head) and 22 in all the others.
Cherif: Yes. Creating the images from the finished manuscript is the most efficient way for us to work, but as Lynn mentioned, we have worked on projects like Passion's Blood which evolved slowly over time. In the case of Passion's Blood, the words and images influenced each other along the way (which is fun and interesting, but produces some wasted effort).
Is it difficult to take an authors words and the concept they have in their mind and put that into your art?
Lynn: Not so far. We have been lucky to work closely with the authors on our illustrated book and app projects.
Cherif: Well, I think it has the potential to be difficult, but we have been fortunate enough to work with authors who understand the power of evoking strong visuals in their work. When authors do that, it makes our job of capturing key moments in the story much easier. From my point of view, reflecting the author's tone and style is the hard part.
Do you have a certain time of day and location that you prefer to create your art?
Lynn: All day when I'm on a roll.
Cherif: I like to start early in the day, as it makes me feel structured. I paint until I start to feel like I'm losing objectivity with the piece I'm working on, then I'll move on to a different piece or take a break. When things are going well, 14 or 16 hour days are not uncommon. Since I work mostly digitally now, I am almost always at my computer in my office.
Do you have a secret passion that no one knows about (mine is sci fi movies but I don't think that is a secret lol)
Lynn: How scandalous! I have had the privilege to work with some of the most beautiful men in the world , posing them, toweling off their water splashed bodies etc.. Loved every moment of it. Cherif was always my favorite model, who couldn't guess that. You might be surprised to know I have a collection of personally retouched Elvis Presley pictures that would choke a horse. I was 14 when Heartbreak Hotel hit big. The Beatles said before Elvis there was nothing. Saw him in person once.
Cherif: Anything I'm passionate about is probably not much of a secret to people who know me. I like sci-fi movies too, and I'm big into fantasy and sci-fi literature. I love art, photography and video games, and I am an avid kick-boxer as well. Also, I love to cook: it reminds a lot of painting, actually, only you get to eat your masterpiece when you're done!
If you could paint anywhere in the world where would that be?
Lynn: My Sunny studio in the back of the house. Everything is handy and I don't have to carry things around.
But if I got me a handsome man to tote and cater to my every need, to go along with me, I guess it would be Italy.
Cherif: One of the mixed blessings of working digitally is that you can do it anywhere you have a computer (which usually ends up being a dark room with the shades pulled down). I guess if I had an ideal set-up, it would be somewhere tropical near the ocean. I think break time would be a bit more fun on the beach.
Since this book is an app the buy code is itunes and here is the
link
ONLINE: