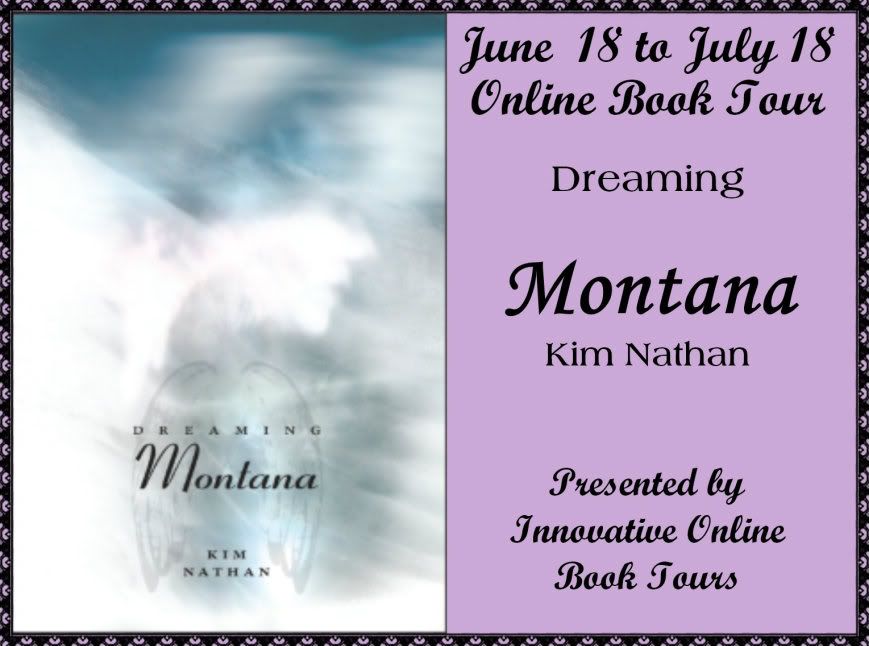 DREAMING MONTANA SYNOPSIS:

In a single day, Cara Gallagher experiences an erotic dream about a man she doesn't know and has a premonition of her identical twin—at the exact moment her sister dies in a car accident. To escape her grief and a loveless marriage, Cara accepts a temporary job reassignment in Seattle, where she continues to have sensuous dreams of the unknown man. There she encounters an angel who claims to be sent by her dead sister to help her find the man in her dreams. Meanwhile, photographer Jay Amiens sees angel wings on his film and has recurring intimate dreams about a woman he doesn't know—but would love to meet in person. Set in 1993, Dreaming Montana invokes the spirit of Seattle at the height of the grunge era, with the city as the backdrop for Cara and Jay to potentially cross paths.
Kim Nathan – Author Bio
Kim Nathan is an American author of historical and contemporary romance fiction. Her first novel was Sterling Redmond, a historical romance. Born and raised in Baltimore, Maryland, she relocated to Seattle, Washington in 1994, where she lives with her husband and cats.
DREAMING MONTANA EXCERPT:
"Here she was back in Seattle, and the whole city lay before her like a giant maze. All she wanted to do was run to the center of it, where she would find him. Now she kept her head up when she walked, searching the faces of people passing by, looking for him everywhere in the crowd. Among the flower stalls at Pike Place Market, while she paused to admire the fresh bouquets, she wondered if he rambled these same aisles. She would see him; she had to believe that now. He was here somewhere, waiting for her. At any moment, she could meet him. Until then, she would walk the same city, breathe the same air, see the same stars in the same sky as he did. And she would wait."
6/28 Ramblings of an Amateur Writer /Interview

6/29 Bajan Rosa Books /Review and Give Away
7/3 Close Encounters with the Night Kind /Review, Give Away
7/5 Understanding Shae's Story /Spot light and Give Away
7/5 The Book Hoard /Spot Light
7/6 Books, Books, and More Books /Review and Give Away
7/9 Words I Write Crazy /Review
7/9 A Case of Reading Insomnia /Review and Give Away
7/10 The Story of A Girl... /Review and Give Away
7/11 This Author's Life /interview
7/13 Bunnys Review /Interview

7/16 A Night's Dream of Books Review
7/18 My Cozie Corner /Review and Give Away
7/18Lissette E. Manning /Review