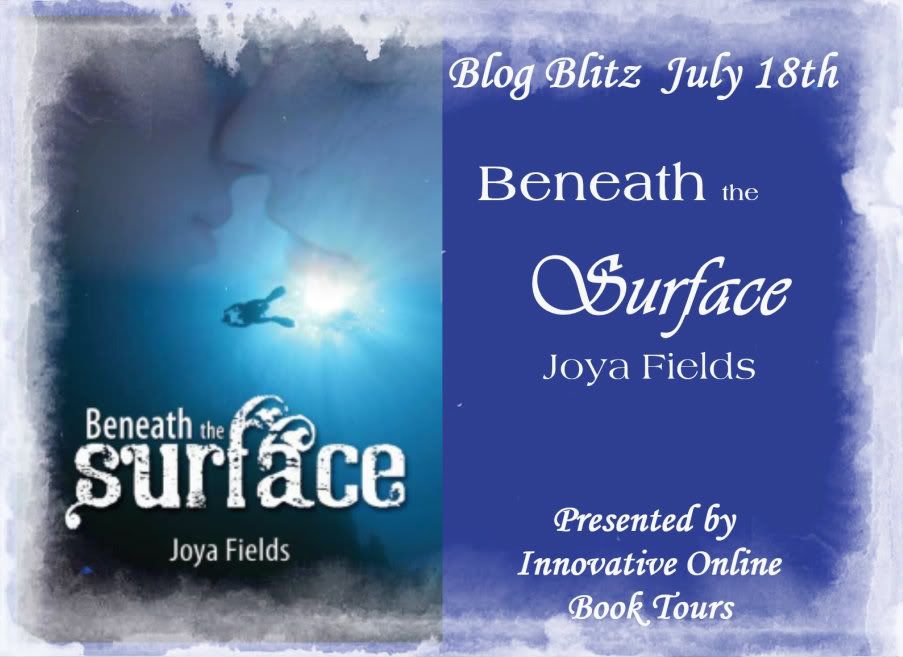 Joya Fields has had over 100 stories and articles published in local and national magazines and her debut novel, BENEATH THE SURFACE, a romantic suspense, released in January, 2012. LOVE DELIVERED, a contemporary romance, is also now available.
Over the years, Joya has taught arts and crafts, worked in public relations, owned a daycare center, helped her children raise prize-winning 4-H livestock, competed in three marathons, and even spent a year as a Baltimore Colts cheerleader. Joya loves spending time with her high school sweetheart/husband of over twenty years, two very supportive children, and a pug who follows her everywhere.
BENEATH THE SURFACE, blurb
She's fighting to stay independent—he's determined to protect her no matter what…
Brooke Richards survived the earthquake that took her parents and most of her leg, but she needs time to regroup. A trip to Florida for a state-of-the-art prosthesis and to visit her best friend Linda seems ideal. But the trip turns traumatic when Brooke witnesses Linda's boat disintegrating in a fiery explosion.
Police officer Garrett Ciavello believes the blast was intentionally set to hide something Linda found on a dive. When Brooke offers her expertise in underwater archeology, Garrett accepts her help with the investigation. But since his fiancée's death years ago, Garrett has become overprotective, and as they are drawn to each other, Garrett realizes he will risk anything to keep Brooke safe.
Brooke is fiercely independent. Garrett is fiercely protective. Will they heal each other's wound and find a killer…before it's too late?
BENEATH THE SURFACE, excerpt
For the first time since the accident, Brooke forgot about her leg. Forgot about all she'd lost and focused on the way Garrett made her feel.
She knew she needed to stop him. She should find a way to resist the temptation to be with him. But for a few minutes, she could enjoy the taste of him, the feel of him, couldn't she?
He dropped his hands to her waist and softened the kiss before trailing a line of kisses down her neck. A weak cry slipped from her mouth. "Garrett," she whispered.
She should stop this now before it got any more intense.
He lifted her chin and forced her to meet his brown eyes, smoky with desire. Heat spiraled to her middle and she caught a whiff of his sawdust scent.
"I…I can walk you back to your own room before I head to mine." His voice broke as he whispered.
She swallowed hard. She couldn't do this right now with him. Too many obstacles stood in their way. But as she looked in his somber eyes, she realized none of those complications were bigger than her need for Garrett.
"Let's go to your room," she said, her voice shaking. She moved her hands inside his shirt and ran them over his tight abs and chest. Heat soared through her body at the feel of him. "Together…"
Review
This book starting out with a dramatic (on the edge of your seat) scene and just kept my attention riveted! I can't remember the last time I read a book so fast (as in I was up all night because I couldn't put it down).
Joya Fields sucked me in and had my emotions all over the place. I love a story that can pull me into its world so that I am ambivalent to my surroundings.
The story was believable and I actually felt like I could get on a plane and go visit this town it is so well developed. Joya does such a great job developing her characters that they felt like friends by the end of the book and I didn't want it to end. Luckily there is an epilogue to feed you just a little longer.
I loved that Brooke Richards the heroin is disabled and not a perfect 10 model like a lot of characters we read. She has lost part of her leg in an earthquake and Joya Fields does an excellent job describing her emotional frame of mind that came with this dramatic change in her life.
WARNING! Start to read the book early maybe with your morning coffee and keep your calendar clear for that day, because you won't be able to put it down.
I absolutely love romantic suspense and this book definitely filled the bill. The book is packed with explosions, mystery, suspense, action, romance, and everything you need for a reading stay vacation.
If you like to read suspense, drama and romance....this is the book for you!
I can't wait to read the next novel by Joya Fields. Go get this book, and you too will have a new favorite author to add to your must read list.

Joya Fields Online:
Website http://www.joyafields.com/
Blog http://joyafieldswriting.blogspot.com/
Facebook https://www.facebook.com/#!/joya.fields
Twitter https://twitter.com/#!/JoyaFields
Good reads http://www.goodreads.com/author/show/5395700.Joya_Fields
Click here to purchase a copy for yourself.
Giveaway
E-book and Swag (signed by author) Swag = Romance Trading Cards and a signed bookmark
GRAND PRIZE
Additionally, a grand prize drawing of a Beneath the Surface tote bag filled with goodies for one commenter, drawn randomly, who comments on all 10 blogs that day: $25 Amazon gift card, autographed copy of Beneath the Surface, Beneath the Surface apron, notepad and pen, Romance Trading Cards, and autographed bookmark.
Rafflecopter code
a Rafflecopter giveaway
A Night's Dream of Books