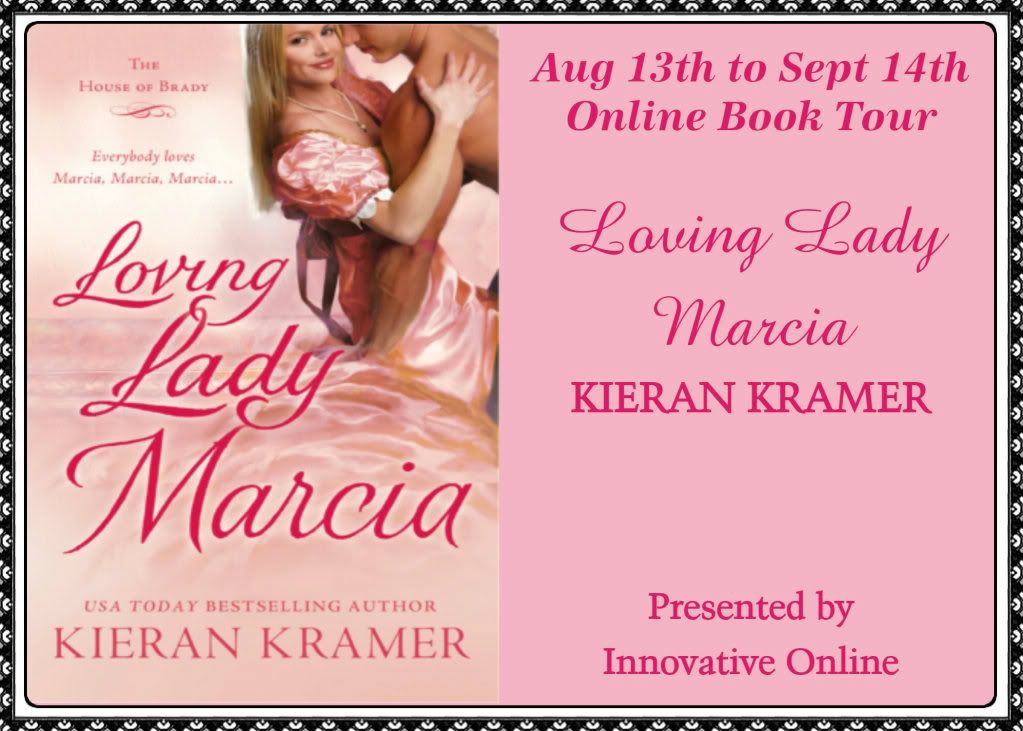 Welcome to my Review of Loving Lady Marcia by Kieran Kramer. This is an Innovative Online Book Tour.
About the book:
MARCIA GETS SCHOOLED…
Of the three Brady sisters, Lady Marcia has always seemed the girl most likely to lead a perfectly charmed life. But after a handsome cad breaks her heart, she swears off love and devotes her life to teaching girls at a private school. In spite of her family's wish for a London debut, Marcia is happy where she is—until terrible news sends her back to the Brady clan…and into the arms of an unexpected suitor.
ON THE SUBJECT OF LOVE
A dark and dashing earl who knows Marcia's past, Duncan Lattimore is surprised by what a fascinating and independent woman she's become. Marcia, too, is surprised—by the fiery attraction she feels for Duncan. But why—why—must he be the brother of the scoundrel who broke her heart? Why must Marcia's rival at school forbid her from seeing him? How can this lady possibly resist this fellow—when they know that it's much more than a hunch…?
At the risk of aging myself, I grew up on the Brady bunch and I love that Kieran is writing this series!
Ok, admit it, you just said "Marcia, Marcia, Marcia" LOL.
So, onto the book...
Duncan is a wonderful man, he has to take over as earl at such a young age and do clean up and repair after is father and brother. I felt bad for him because of that situation, it the way he works so hard to make the world a better place by be a fixer just makes him all the more wonderful. It doesn't hurt that he is hot and smexy either. Duncan is always so kind and wonderful to Marcia even when she is not reciprocating,*sigh* such a gentleman.
Marcia is a wonderfully strong character which is always a win with me. I love a story where the woman is as strong as the male lead. Just imagine the drive and intelligence required in that era to become a head mistress. I can under stand her grudge against Duncan, due to the issue with her brother, It is only human.
Don't even get me started on Finn who is Duncan's brother, the one word that comes to mind is "Rouge". Now you need to read it to find out why *grin*.
I am looking forward the rest of the House of Brady series.
Ok, everybody sing! "There's a story of a lovely lady who was bringing up 3 very lovely girls…."
In a nut shell, I LOVED this book and I'm so excited to have Kieran doing her online tour with I.O. Book tours. Be sure to check out all the stops and leave comments. This is not your typical historical romance, its better!
You can check out all the blogs that she will be attending by going to her website: http://kierankramerbooks.com/tour/ or I.O. Book tours home page http://innovativeonlinebooktours.com/
a Rafflecopter giveaway