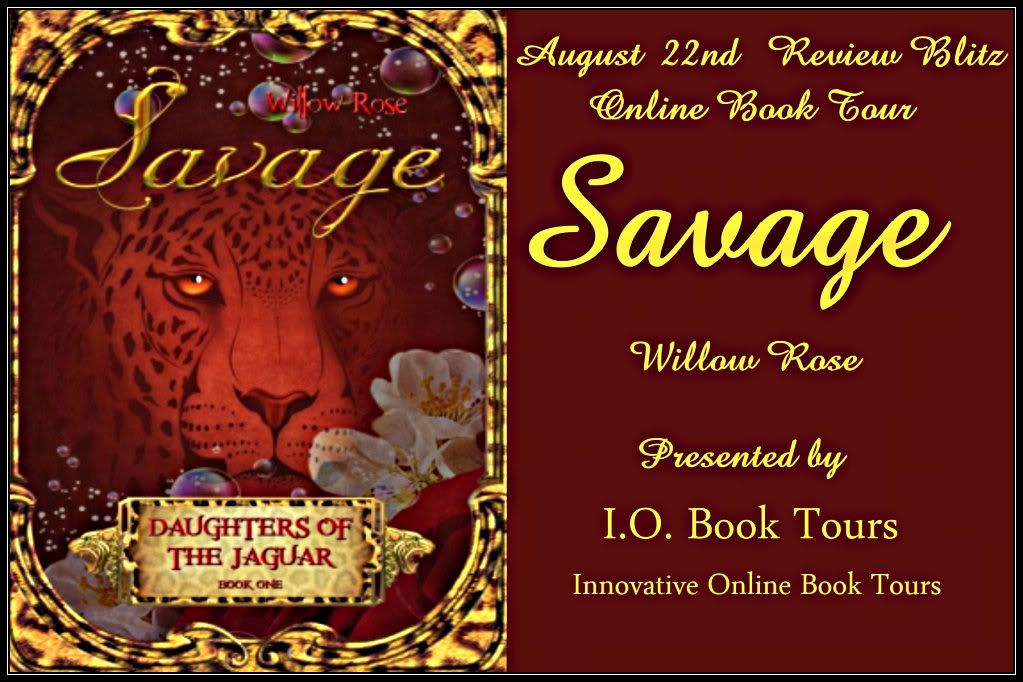 Please be sure to visit all the Blogs featuring Willow Rose today
Night Owl Reads
Books, Books, and More Books
DanaSquare
Concise Book Reviews By Michelle
My Cozie Corner
Close Encounters with the Night Kind
Indiewritersreview
Amber's Supernatural & YA Reviews
Nomi's Paranormal Palace
Mallory Heart Reviews
Mallory Heart Reviews
BIO
Willow Rose writes Paranormal Romance, fantasy and mystery. Originally from Denmark she now lives on Florida's Space Coast with her husband and two daughters. She is a huge fan of Anne Rice and Isabel Allende. When she is not writing or reading she enjoys to watch the dolphins play in the waves of the Atlantic Ocean.
The year is 1983. Christian is 22 years old when he leaves his home in Denmark to spend a year in Florida with a very wealthy family and go to med-school. A joyful night out with friends is shattered by an encounter with a savage predator that changes his life forever. Soon he faces challenges he had never expected. A supernatural gift he has no idea how to embrace. A haunting family in the house next door. A spirit-filled girl who seems to carry all the answers. An ancient secret hidden in the swamps of Florida. One life never the same. One love that becomes an obsession. Two destinies that will be forever entangled.
Savage is a paranormal romance with some language, violence, and sexual situations recommended for ages sixteen and up
Review:
WOW! By the way did I say WOW!
This is not really a YA book due to the adult relations. I just wanted to say that right away.
As many books that are the first of a series the author needs to set the situation and tone with the first few chapter. We need to meet and get to know the characters, so yes it is a bit slow in the beginning but since it is the first of a series that is expected. So, don't be surprised and stay with it learning about the characters and their situations and BAM! The story gets REALLY GOOD.
One of the unique aspects of this book is an older version of Christian the main character is narrating his story. At times it really stood out that he was reminiscing but most of the time I was so engrossed in the story I forgot he was telling his life story and I was just in the moment.
I really got sucked into the story once Aiyana and her wonderful family join the story. I so want them as next door neighbors! I can't say too much about Christian and Aiyana without busting out the story.
I loved all the supernatural things about Aiyana and her family and their names were sooooo cool. I was going a bit nuts wanting the shifter aspect to kick in and thankfully it finally did or I may be in a straight jacket right now.
This quote really rang true for me and has stuck with me:
"This is your soul we are talking about. Your soul wants this; it craves to become an artist. You can't demy your soul for very long, my friend. That will only lead to misery and bitterness. Look at the world outside these windows. It is filled with people who never followed their dreams. People who gave up. Mediocre people living small mediocre lives filled with bitterness and resentment because their heart wanted to do something completely different. You, my friend, you could be something truly great. You have an amazing gift. You need to listen to what is inside of you. What is your heart telling you? Only the heart knows your real purpose in this life.
"
I have been thinking back on this book al day and it has been a long time since a book has stuck with me in such a way. Thank you so much Willow for writing this book! 5 HUGE stars!
Willow Online:
>> facebook:
https://www.facebook.com/willowredrose
>> twitter: @madamwillowrose
>> blog:
http://www.willow-rose.blogspot.com
/
>> link to booktrailer:
http://www.youtube.com/watch?v=BwzYsoUn2VY&feature=player_embedded
>> Amazon:
http://www.amazon.com/Savage-Daughters-Jaguar-ebook/dp/B008BP5ONY/ref=la_B004X2WHBQ_1_8_title_1_kin?ie=UTF8&qid=1341005661&sr=1-8
>> Goodreads:
http://www.goodreads.com/book/show/13648992-savage
WOW!!!! WIN SOME GREAT PRIZES!
1 Signed Print copy of Savage
The Grand Prize her 5 other books as Signed Print books!
a Rafflecopter giveaway