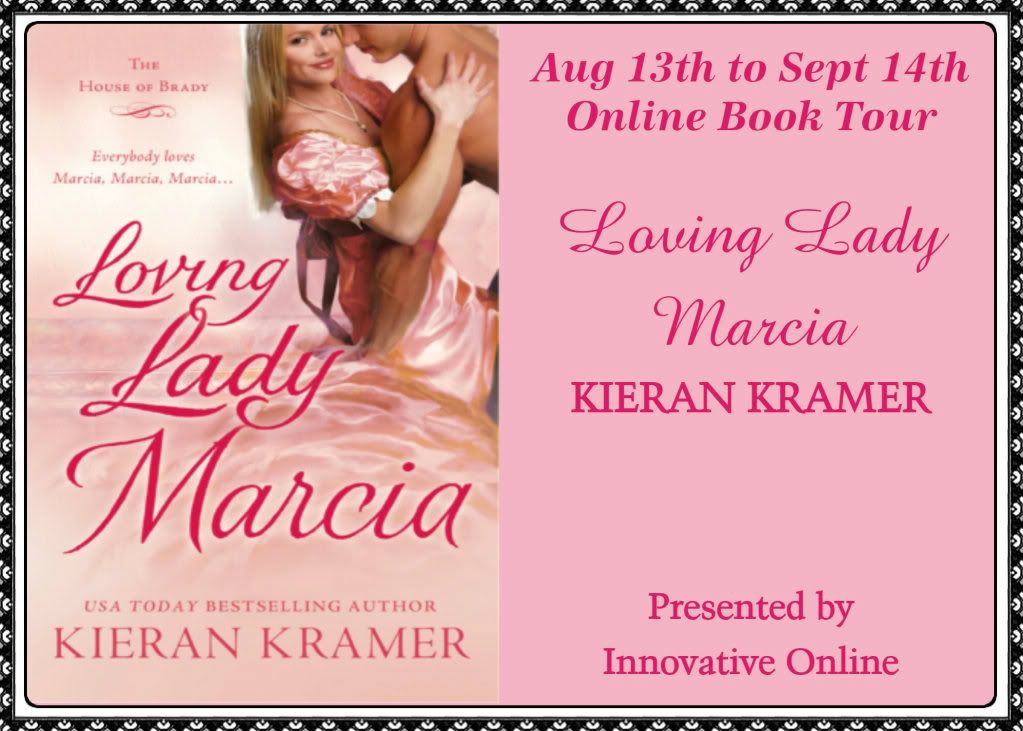 HEY GUYS, Kieran stopped back for a quick interview. Welcome her in the comment section and ask her some questions.
Hi there! Welcome to T B R. Thank you for taking the time to share some info about you and your book with me and my readers. Tell us a bit about yourself!
…
1. Please describe your book in 3 sentences or less.
LOVING LADY MARCIA follows the adult romantic life of the first sibling of six brothers and sisters in a blended family in Regency England. Marcia has a secret that's keeping her from reaching her full potential and embracing true love. The fabulous Duncan Lattimore, Lord Chadwick, is the man who will help her heal, and in the process, he'll learn some life lessons, too.
2. What do you feel sets your book apart from all others that are available to the reader?
Well, mine is the only one that I know of that pays light homage to the Brady Bunch—but if you've never seen that show, it won't matter. This is an organic Regency tale.
3. Tell us a bit about what influences you and just how / why these authors and / or their work inspire(s) you.
Pop culture is a huge influence on me!
As for authors, Charles Dickens, Jane Austen, Mark Twain, and Harper Lee really played a part in my development as a writer. They were excellent at creating wonderful characters and building believable worlds. I admire them tremendously.
4. How and when did the idea of this series first come to you?
I don't know WHY it came to me, but it was 1:00 a.m. and I woke up from a dream with that idea. I immediately got out of bed and wrote an email to my editor and agent about it.
5. What books are you currently reading?
Robyn Carr, REDWOOD BEND. I like nonfiction, too. I want to read the new book by the SEAL who participated in the operation to bring down Osama Bin Laden.
6. Who was your first book crush?
Connan TreMellyn in THE MISTRESS OF MELLYN by Victoria Holt.
7. Which actors can you envision playing the lead roles in your book?
Amanda Seyfried as Lady Marcia Sherwood
Chris Pine as Duncan Lattimore, Earl of Chadwick
Ryan Kwanted as Finnian "Finn" Lattimore
Emily Blunt as Lysandra, Lady Ennis
8. What's your least favorite chore to do around the house?
Vacuuming
9. Are you a believer in bacon make everything taste better?
YES!!! I even put a bacon meme from the internet in my son's lunch one day at school. It said something like, "Bacon makes the world go round," and I made him a bacon sandwich. He still says it was the best lunch he's ever had at school!
10. Anything else you'd like to share with us all? Extra points if you make us giggle or swoon!
I love my two tabby kitties so much, it's kind of sickening. I'm always taking pictures of them--and little video clips when they fight. They like to bat each other on the head, and sometimes they just hold that paw on the other one's head for a few seconds and they growl back and forth. Their fights are so dramatic and funny! I also like to lie on the floor next to my dog and hug him like a person. I look into his eyes and tell him he's the best dog in the world, and he thumps his tail on the floor. You can tell he thinks I'm the craziest of all the humans he knows, but he secretly loves the attention.
I like to talk to strangers, and my favourite TV shows are crazy ones like The Office and Curb Your Enthusiasm—oh, and I'm an American Idol fanatic! Do NOT talk to me during American Idol!!! I miss Simon SO badly. They need a judge who isn't so easy on everyone. He did have his cruel moments that I didn't approve of, but generally, he was a fantastic judge (IMO). See? I could talk about Idol all day. I'm very worried about this upcoming season. I don't know how much longer it can last. Let's hope they discover a very big star. That's why I watch it.
Thanks so much for having me here today! It was so much fun! I loved your questions.
XOXO Kieran
Thank you for taking the time to share this with us. I wish you the best of luck with your future career as a published writer.
See my Promo post for today and my Review of Loving Lady Marcia