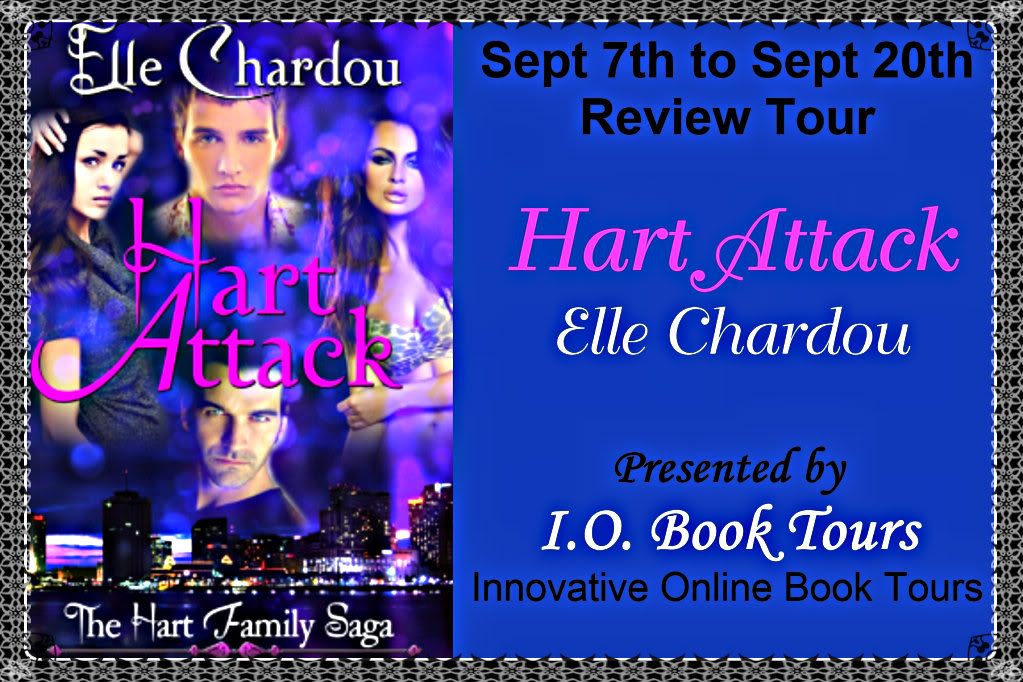 Welcome to my Review of Hart Attack by Elle Chardou. As always I love comments, so be sure to tell me you stopped by, also be sure to enter to win as well.
BLURB:
The Big Easy
A city known for its magic, sparkle and overwhelming amount of supernatural creatures, it is one vacation Angelika Hart is not looking forward to in the slightest. A visit to her sister, Lena's, will mean dealing with her vampire boyfriend, Andreas, and a gorgeous Lycan King, Sebastiaan, who both seem to want something else from her besides her talented hacking skills.
The Attack
A night at the ultra popular club, Thirst, changes everything when Lena mysteriously disappears. What started out as a carefree getaway has turned into a full fledged mystery of what has happened to Angelika's sister, and whether she is still alive? Lena's disappearance does a lot more than shake the depths of Angelika's world and those around her. She finds herself in an impossibly difficult situation where an attraction to Andreas can set her on a course down a dark path she never meant to venture.
The Aftermath
After Lena is found, Angelika's life spins into a free fall where her controlling nature slips away, Andreas pierces her icy exterior and a choice has to be made. Her journey into the forbidden leaves her a changed person and she finds there is no way of going back once she is past the point of no return. As the bodies began to pile up, she has to make a decision that will ultimately change her destiny forever and those of everyone else around her.
If you are a fan of the HBO series, True Blood, you will like Hart Attack.
WARNING: This is paranormal romance novel with sexy good times, a couple of naughty half-Faerie half-shifter sisters, an Alpha Lycan King, a smokin' hot vampire, blood, and explicit language. Gore and closed door sex scenes? Not in this book.
My Review:
Elle Chardou has a unique perspective on the Fae, Werewolf, and Vampire realm.




I love anything set in New Orleans and this one provided me yet another visit to my favorite city.




There are hot sexy women and totally swoon worthy men!!! Keep in mind NONE of these characters are human.




I Love Angelika's character, she is super smart and in the top 5 hackers in the world. This lady takes no guff from anyone. She can stand up to any man out there. I love a strong woman.




Between Andreas and Sebastiaan, both super yummy, I lean toward Sebastiaan. He just took my heart from the first few scenes he was in and he is so steadfast in his love for Lena.




The reader must keep in mind when reading this and following the relationships and love interests that THESE ARE NOT HUMANS! You cannot put human morality and behavior onto these supernatural beings, even though we are often tempted to.




I am very curious to read the next Hart family story.

Bio:

Danielle Blanchard Benson is a world traveler and author of several different series.

Ms. Blanchard Benson is the author of Beginnings: Book I (The Plague), Death Wish: Book I, Better off Dead: Book II and Death Lair: A Novella (all from The Vamp Saga), The Catalyst: Book One (The Pop Stars) and The Beautiful People series.

She is currently working on Love Voodoo: Book I (DeGeneration), Apocalypse 2012: Book II (The Plague), Hart Attack: Book I (The Hart Family Saga), The Making of a Star: Book Two (The Pop Stars) and Queen of the Undead: Book III (The Vamp Saga).

Ms. Blanchard Benson has lived abroad in Stockholm (Sweden), Manchester (England), Los Angeles, the San Francisco Bay Area and Portland. She currently resides in Las Vegas, Nevada.

Blog: http://thebeautifulpeopleawritersjourney.blogspot.com/

Twitter: http://twitter.com/#!/dblanchbenz007

Facebook: http://www.facebook.com/Author.Danielle.Blanchard.Benson

Goodreads: http://www.goodreads.com/author/show/4883227.Danielle_Blanchard_Benson

• Amazon paper book • Amazon Kindle
Don't Miss these reviews as well!
9/10 The Bunny's Review
9/12 Andrea Heltsley Books
9/14 Concise Book Reviews by Michelle
9/14 Sharing Links and Wisdom
9/17 Lissette E. Manning
9/18 Close Encounters with the Night Kind
9/18 Book Lover's Hideaway
9/19 Books, Books, and More Books
9/19 Nomi's Paranormal Palace
9/20 Oopie Poopie The Bibliomaniac
9/20 My Cozie Corner
a Rafflecopter giveaway