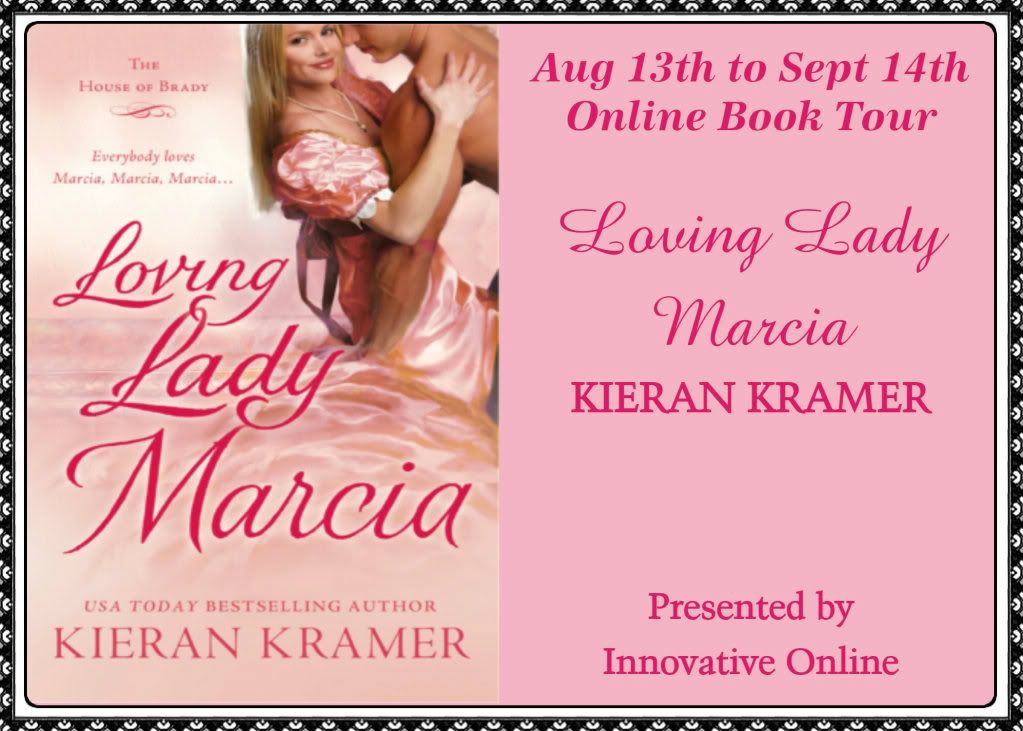 Welcome to the Loving Lady Marcia by Kieran Kramer. While you are here you can read my Review as well Click Here. Please leave a comment and let me know that you stopped by.
About Kieran:
Double Rita®-finalist and USA Today bestseller Kieran Kramer is the author of the
lighthearted Regency historical romance series, The Impossible Bachelors, published by
St. Martin's Press. She has a new six-book contract with St. Martin's for another
Regency series called The House of Brady, premiering in August 2012 with LOVING
LADY MARCIA. A former CIA employee, journalist, and English teacher, Kieran's also
a game show veteran, karaoke enthusiast, and general adventurer. Without doubt her
greatest adventure, which she's taken hand-in-hand with her husband of 23 years, a
commander in the US Navy Reserves, has been mothering their three children.
Author Site: http://kierankramerbooks.com/
Facebook: http://www.facebook.com/KieranKramer
Twitter: http://twitter.com/kierankramer
Goodreads: http://www.goodreads.com/author/show/3452785.Kieran_Kramer
Pinterest: http://pinterest.com/kierankramer/
Street Team: http://regencyrockstars.com
Group blog of writer moms: http://peanutbutteronthekeyboard.wordpress.com
Free Droid app: https://play.google.com/store/apps/details?id=com.onseeker.kierankramer
Free iPhone app: http://itunes.apple.com/us/app/kieran-kramer/id524781724?mt=8
Of the three Brady sisters, Lady Marcia has always seemed the girl most likely to lead a perfectly charmed life. But after a handsome cad breaks her heart, she swears off love and devotes her life to teaching girls at a private school. In spite of her family's wish for a London debut, Marcia is happy where she is—until terrible news sends her back to the Brady clan…and into the arms of an unexpected suitor.
A dark and dashing earl who knows Marcia's past, Duncan Lattimore is surprised by what a fascinating and independent woman she's become. Marcia, too, is surprised—by the fiery attraction she feels for Duncan. But why—why—must he be the brother of the scoundrel who broke her heart? Why must Marcia's rival at school forbid her from seeing him? How can this lady possibly resist this fellow—when they know that it's much more than a hunch…?
Loving Lady Marcia Blog Tour Schedule:
A swag package containing the following:
● 1 pink Loving Lady Marcia Pen
● 1 Loving Lady Marcia wine charm
● 1 Loving Lady Marcia bookmark
● 1 Kieran Kramer post-it notes
● 1 set of Impossible Bachelors romance trading cards
● 1 Loving Lady Marcia romance trading card
● 1 "Autographed by the Author" gold sticker


Giveaway is open to US/CA readers
a Rafflecopter giveaway